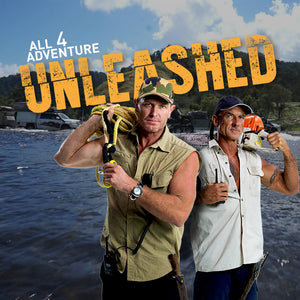 Need more adventure in between tv series? Check out our subscription series Unleashed to get your fix! Only $9.99/month!
The Home of Australian Adventure

Are you a fan of 4x4ing, camping, fishing, boating, quads, touring, rig builds, bush cooking and other Australian adventure activities? If so, Unleashed.tv was made for you! What began as the home for the Unleashed web-based specials has now evolved into so much more.
The Unleashed.tv library is constantly growing, with Jase and the team adding new and exciting content for subscribers every month for an affordable price of $9.99/month – no commitment required! Find out more at Unleashed.tv.

| SIZE GUIDE | XS | X | M | L | Xl | 2XL | 3XL | 4XL |
| --- | --- | --- | --- | --- | --- | --- | --- | --- |
| Width (back) | 51 | 56 | 60 | 64 | 68 | 71 | 77 | 79 |
| Width (across shoulders) | 45 | 50 | 52 | 54 | 57.5 | 58 | 60 | 60 |
| Length | 44 | 44 | 45 | 45.5 | 45.5 | 45.5 | 46 | 46 |
| Arm Length | 59 | 60 | 62 | 63 | 64 | 65 | 66 | 67 |
| Total Length | 80 | 82 | 84 | 86 | 88 | 88 | 90 | 90 |