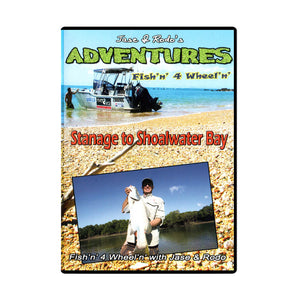 One of the 'original four' DVDs put together by Jase. This never-televised DVD shows him with old mate Rodo out on the coast of Queensland.
In this Adventure, the guys head off to Shoalwater Bay north of Yepoon in Queensland. They explore and fish the area between Shoalwater Bay and Stanage taking in some of the most beautiful coast line this side of Australia has to offer. Catch up with Jase & Rodo on yet another Fish'n' 4 Wheel'n' Adventure to see what they got up to this time!
DELIVERY

PLEASE NOTE DUE TO COVID-19 WE ARE EXPERIENCING DELIVERY DELAYS

We normally dispatch your order within 1 business day however during busier periods it may take 2 business days.

Australia Post will normally take 3-5 business days via regular post, but it will depend on your location (WA customers may experience a little longer delivery time).

We recommend visiting the Australia Post website and using their delivery times estimator by putting in your address and our warehouse postcode of 4563 to get an idea of your delivery time.

RETURNS
Click here to view our returns policy
INTERNATIONAL SHIPPING
Please note if you wish to purchase any of the following products internationally, please contact us on shop@all4adventure.com to obtain a shipping quote:

Cape York Camp Chair, Ultimate Camp Cooking Bundle, Ultimate Camp Cooking XL Bundle, Camp Oven, Camp Cooker, Enamel Dinner Set, End-Opening Storage Case 90L, Premium Adventure Recovery System.
| SIZE GUIDE | XS | X | M | L | Xl | 2XL | 3XL | 4XL |
| --- | --- | --- | --- | --- | --- | --- | --- | --- |
| Width (back) | 51 | 56 | 60 | 64 | 68 | 71 | 77 | 79 |
| Width (across shoulders) | 45 | 50 | 52 | 54 | 57.5 | 58 | 60 | 60 |
| Length | 44 | 44 | 45 | 45.5 | 45.5 | 45.5 | 46 | 46 |
| Arm Length | 59 | 60 | 62 | 63 | 64 | 65 | 66 | 67 |
| Total Length | 80 | 82 | 84 | 86 | 88 | 88 | 90 | 90 |