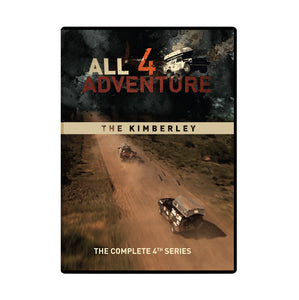 The complete 4th series of the hit TV show All 4 Adventure follows modern-day adventurers Jase Andrews and Simon Anderson on rugged expeditions far off the beaten track, as they scour Australia's remote Kimberley for undiscovered billabongs, creeks, and coastlines, in the determined pursuit of the perfect catch.
From Kununurra in the East to Broome in the West, take a wild ride with mates Jase and Simon as their 16-episode expedition leads them on a wild odyssey of adrenaline-fueled adventure into the heart of this vast region.
Using 4WDs, ATVs, boats, and helicopters, the explorers venture deep into uncharted bushland, through stunning river systems, and far offshore into the crystal blue water of the Indian Ocean, facing all sorts of challenges – from bogs and tides, to sharks and crocs – and relying on their ingenuity, experience, and a good measure of humour to reach their final destination.
Armchair adventures don't get much better than this.
CONTAINS 2 DVDS
COMPLETE 16-EPISODE SERIES + BONUS MATERIAL
WIDESCREEN PAL (REGION FREE)
DELIVERY

PLEASE NOTE DUE TO COVID-19 WE ARE EXPERIENCING DELIVERY DELAYS

We normally dispatch your order within 1 business day however during busier periods it may take 2 business days.

Australia Post will normally take 3-5 business days via regular post, but it will depend on your location (WA customers may experience a little longer delivery time).

We recommend visiting the Australia Post website and using their delivery times estimator by putting in your address and our warehouse postcode of 4563 to get an idea of your delivery time.

RETURNS
Click here to view our returns policy
INTERNATIONAL SHIPPING
Please note if you wish to purchase any of the following products internationally, please contact us on shop@all4adventure.com to obtain a shipping quote:

Cape York Camp Chair, Ultimate Camp Cooking Bundle, Ultimate Camp Cooking XL Bundle, Camp Oven, Camp Cooker, Enamel Dinner Set, End-Opening Storage Case 90L, Premium Adventure Recovery System.
Can You Please bring back DVD series 10 and 11 of All 4 adventures. Im only half way though series 4 so far ATM. Cheers John
| SIZE GUIDE | XS | X | M | L | Xl | 2XL | 3XL | 4XL |
| --- | --- | --- | --- | --- | --- | --- | --- | --- |
| Width (back) | 51 | 56 | 60 | 64 | 68 | 71 | 77 | 79 |
| Width (across shoulders) | 45 | 50 | 52 | 54 | 57.5 | 58 | 60 | 60 |
| Length | 44 | 44 | 45 | 45.5 | 45.5 | 45.5 | 46 | 46 |
| Arm Length | 59 | 60 | 62 | 63 | 64 | 65 | 66 | 67 |
| Total Length | 80 | 82 | 84 | 86 | 88 | 88 | 90 | 90 |
Can You Please bring back DVD series 10 and 11 of All 4 adventures. Im only half way though series 4 so far ATM. Cheers John