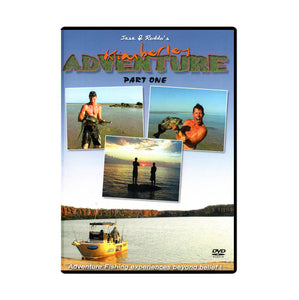 One of the 'original four' DVDs put together by Jase. This never-televised DVD shows him with old mate Rodo out in the Kimberley (Part 1).

After nine years of dreaming about this trip, Jase Andrews and Rodney Quinton spent twelve months preparing and planning it.
From Wyndham to Kalumburu, join the boys in an adventure of a lifetime, 300nm by sea into the heart of the Kimberley as they travel 5000kms by road to the Macarthur River in the Gulf and the Kimberley in Western Australia. Experience some of the best scenery in the country and some of the most remote places Australia has to offer. See the spectacular King George River, Far Away Bay and Cape Londonderry. Watch them catch crocs, rassle big mud crabs, spear crayfish and trout in croc and shark infested waters and lots more…
This is one of the 'original four' DVDs put together by Jase. These never-televised DVDs show him with old mate Rodo out in the Kimberley (Parts 1 & 2).
For the Kimberley series televised on 7TWO, you should also check out Series 4 - The Kimberley.
DELIVERY

PLEASE NOTE DUE TO COVID-19 WE ARE EXPERIENCING DELIVERY DELAYS

We normally dispatch your order within 1 business day however during busier periods it may take 2 business days.

Australia Post will normally take 3-5 business days via regular post, but it will depend on your location (WA customers may experience a little longer delivery time).

We recommend visiting the Australia Post website and using their delivery times estimator by putting in your address and our warehouse postcode of 4563 to get an idea of your delivery time.

RETURNS
Click here to view our returns policy
INTERNATIONAL SHIPPING
Please note if you wish to purchase any of the following products internationally, please contact us on shop@all4adventure.com to obtain a shipping quote:

Cape York Camp Chair, Ultimate Camp Cooking Bundle, Ultimate Camp Cooking XL Bundle, Camp Oven, Camp Cooker, Enamel Dinner Set, End-Opening Storage Case 90L, Premium Adventure Recovery System.
| SIZE GUIDE | XS | X | M | L | Xl | 2XL | 3XL | 4XL |
| --- | --- | --- | --- | --- | --- | --- | --- | --- |
| Width (back) | 51 | 56 | 60 | 64 | 68 | 71 | 77 | 79 |
| Width (across shoulders) | 45 | 50 | 52 | 54 | 57.5 | 58 | 60 | 60 |
| Length | 44 | 44 | 45 | 45.5 | 45.5 | 45.5 | 46 | 46 |
| Arm Length | 59 | 60 | 62 | 63 | 64 | 65 | 66 | 67 |
| Total Length | 80 | 82 | 84 | 86 | 88 | 88 | 90 | 90 |