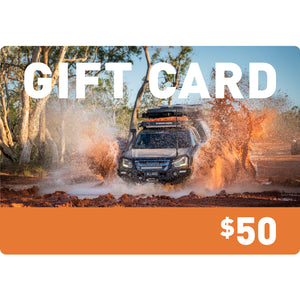 Give the gift of adventure with an electronic gift card! A perfect last-minute gift for any occasion!
*Note: This is a virtual product sent by email only. No physical gift card will be mailed.
(Valid on the CampBoss.com webstore only, they are not valid on Unleashed.tv)
This gift card does not expire.
DELIVERY
PLEASE NOTE DUE TO COVID-19 WE ARE EXPERIENCING DELIVERY DELAYS
We normally dispatch your order within 1 business day however during busier periods it may take 2 business days.
Australia Post will normally take 3-5 business days via regular post, but it will depend on your location (WA customers may experience a little longer delivery time).
We recommend visiting the Australia Post website and using their delivery times estimator by putting in your address and our warehouse postcode of 4563 to get an idea of your delivery time.


RETURNS
Click here to view our returns policy


INTERNATIONAL SHIPPING
Please note if you wish to purchase any of the following products internationally, please contact us on support@campboss.com to obtain a shipping quote:
Cape York Camp Chair, Ultimate Camp Cooking Bundle, Ultimate Camp Cooking XL Bundle, Camp Oven, Camp Cooker, Enamel Dinner Set, End-Opening Storage Case 90L, Premium Adventure Recovery System.
Quick delivery
The gift card was delivered straight away to my email, my family are thrilled with the gift
| SIZE GUIDE | XS | X | M | L | Xl | 2XL | 3XL | 4XL |
| --- | --- | --- | --- | --- | --- | --- | --- | --- |
| Width (back) | 51 | 56 | 60 | 64 | 68 | 71 | 77 | 79 |
| Width (across shoulders) | 45 | 50 | 52 | 54 | 57.5 | 58 | 60 | 60 |
| Length | 44 | 44 | 45 | 45.5 | 45.5 | 45.5 | 46 | 46 |
| Arm Length | 59 | 60 | 62 | 63 | 64 | 65 | 66 | 67 |
| Total Length | 80 | 82 | 84 | 86 | 88 | 88 | 90 | 90 |
Quick delivery
The gift card was delivered straight away to my email, my family are thrilled with the gift